How to improve product growth and performance, improve product experience, compliance and business growth by using a Skyjed product health check
Summary
A Skyjed product health-check is a process to review and assess your product a tool for modern product lifecycle management. Regular health-checks can identify early signs of risks or opportunities. The health-check is a structured assessment across 5 Domains of product health, performed by the product owner with collaborative input from other areas of your organisation.
High performing product executives use these health-checks to regularly asses their product strategy, plans and risks. In this guide we cover 8 areas:
Overview
The Product health-check explained – terminology
What is it?
How Skyjed organises your health-check index?
Why is it useful
How to use it?
How to successfully implement a product health-check
Conclusion
How Skyjed figures out your product health score is guided by a commitment to provide you with best forward-looking insights on your product strategy. Skyjed organises information about your product Domains and Driver data in our Product Health Index. The index is like a Barometer and reflects changes in the circumstances of your product strategy and health-score rating.
Skyjed sorts through all the data in your product audit in a fraction of a second and presents it to you in you in an easy and visual way to interpret.
Skyjed looks at many factors in your product Domains and Drivers, including your revenue and margin performance, your competitive analysis, value proposition and your regulatory compliance. The weighting applied to each factor changes over time and is guided artificial intelligence and machine learning.
We present the results in health check meter that has a percentage rating and with colour coding.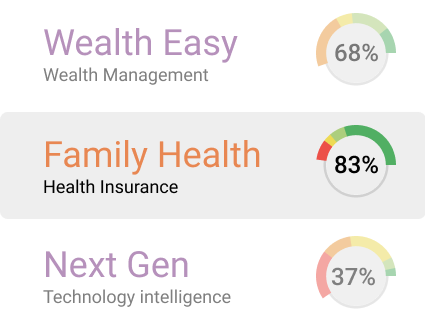 Product Health-check for high performing team
There are many differences between traditional product lifecycle management (which was developed in 1962) and Skyjed's new framework for high performing teams that we call a Trust-centred product management. This is a new methodology for product growth and trust. For years organizations have structured their launched products around Product Lifecycle Management (PLM) or more recently Agile principles for new product development. But recently, PLM has begun to fail product, risk and regulatory leaders. Today customers are seeking product experiences they can trust, which means product professionals need to firmly set a baseline to meet your regulatory obligations – social, environmental and governance responsibilities. PLM has a significant flaw. It tracks revenue – a financial metric over time to derive a maturity phase and ignores your customer and non-financial metrics. That's where Skyjed comes into play.
So we built a Trust-centred product management framework(TPM) designed to put the customer at the centre of product lifecycle management, increase the transparency of risk and set a baseline to meet product regulatory obligations. The TPM model is a more comprehensive, agile way of managing your new and existing products to deliver growth and customer trust. The framework focuses on a product health-check.
To find out more about this framework, read more in our Resource Centre.
The most successful companies will adjust their product strategy using a product health-check. The Skyjed product health check index is a instant way to manage your new and existing products.
Today product leaders use the Skyjed Product Health Index on their products across a variety of industry segments. While most organizations monitor the financial performance of their products and portfolios, not all of them have a robust way to control non-financial risk, and still, fewer consistently assess a product health strategy to surface risk exposure into pragmatic action plans.
As a result, it is estimated that product leaders in more than 50% of cases are given little choice than to make strategic or product risk decisions based on gut feel or experience.
To help product professions improve product performance, regulatory compliance and governance with fewer hassles, we built the Skyjed Product Health to present to you instant product assessments.
The Fundamentals of Product Index
The Product Health-check Explained – Terminology
Product Health-check = completing a 360 assessment of a product
Domain = an area of product health
Driver = prompt for information or rating
Product health score= an AI-generated rating of the health of your product from 0 to 100%.
Product Index = AI-generated measurement of the health of your product with distribution of ratings so you can see variances.
What is Product Health-Check?
The Health-check score is an indicator or measure of the health of your product.
Skyjed presents a AI based measure of the change in your product health. It helps you interpret how successful your product strategy will be in the current competitive, market, social, environmental and regulatory forces.
Skyjed was created to help you track the performance of your product across more than just financial metrics. The collection of data includes, but is more than just financial metrics, although they are essential. It also includes operational and non-financial metrics.
It enables the product manager to monitor their product strategy and set action plans to improve health. The Skyjed health-check includes a rich selection of metrics designed to help you become a more effective product leader. Strategic product decisions are all about timing. From identifying opportunity and risk using the Skyjed platform, the Product Health Index can give you new powers to succeed.
The product health index also can be used to measure the up and down movement of your product health. When keeping product performance records, it is easiest to maintain a precise index of your product so you can report in a hurry.
The intention is that it highlights indicators or triggers and gives tips for product manager about what to consider and analyze further.
The product health index presents to you a product health score.
When you hit the publish tab in your Skyjed software a Product Health Index is automatically calculated. The Product Health Index is presented to you on in your Insights and Report dashboards.
The Product health Index present to you a visual indicator displaying two things:
a % rating out of 100%
and a health meter with colour coding
the colours represent – green indicates high positive growth potential, neutral growth and negative growth or highly negative growth
The meter is diverged from the centre point to allow for side by side comparison. The centre point is at 12 o'clock
The point of divergence is at 0 for positive and negative growth potential. The maximum score for positive is 100 and the maximum score for negative is 0.
The maximum product health score you can get is 100, and the minimum you can get is 0.
A low product health score doesn't mean you are not a great product manager.
It means that your product is subject to increasing competitor activity, regulatory compliance, cost pressures, technology disruption or rising customer expectations. It is not a bad thing to have a low score. What is most important is that you track your product health over time and put in place action plans to improve or even decommission the product at the optimum time.
For example, it is likely when you first launch a product until you find product-market fit the health score is low. You will have uncertainty around your product strategy and not yet found a repeatable, scalable model. Likewise, a mature product that is subject to new entrants and disruption may have high revenue but lower product health score.
What is a product health index?
The Skyjed algorithm does all the work for you by searching our you product domain data and ratings, then assigning a rank to each factor. Each index rating relates to a product and has its own calculation when you publish your product audit. In most cases, the relative change of the product index is more important than the actual numeric value representing the index. Skyjed's product health function is similar to a Google key word search algorithm. The algorithm is doing all the analysis for you so that you can make better product lifecycle decisions in real-time.
For example
If your product index is at 43%, it tells the product leader that the product strategy is at risk and requires new decisions or action plans.
If the previous product index was 70%, a fall of 27, it tells you that your last action plans further adjustment or course-correction.
The index draws on a collection of data points across financial, non-financial and operational forces in a product strategy. We call these the five product domains of product health.
This futuristic framework is more effective than using product lifecycle management which emerged as a product lifecycle framework in 1962 and has largely been in slow motion for the past decade. The design of Skyjed is fundamentally different so that you have transparency, can collaborate in real-time and make fast and effective decisions.
How is the health-check index score organised?
The Skyjed health-check uses advanced technology – artificial intelligence and machine learning to provide timely product insights and analysis. The health-check is based on an algorithm and derived from the domain and driver data in your product audit.
The product health index is derived from the product data, KPI and ratings in your audit and AI based weightings. All this delivered into your Skyjed Dashboard as an easy to read aggregated score.
Why is it useful?
Product health index scores are often used as benchmarks. In the case of the Skyjed product health score, it is used to measure the performance of products or product portfolios over the life of the product.
Compare one product over-time
For instance, product leaders can compare the health of product over-time – monthly, quarterly or annually.
Compare one product to another in the portfolio
Compare product A to Product B across portfolios to give them a sense of how much risk or growth exists in the product portfolio.
Product comparison for transparent updates to set and monitor a risk hurdle
It is also useful to update senior executive and board members in a transparent manner. Today company governance requirements mean that boards and senior product leaders need to monitor non-financial risk, environmental and social measures. You may want to proactively brief senior management when the health index score falls below 50% for all products in the company and put them on a so-called product watch list.
Product comparison as an early warning of requiring attention
You may want to set a threshold with your product team to flag and monitor products where the quarterly change in health check score is a negative variance of 30%.
Early warning for operational risk teams
You may want to set a threshold with your product and risk team to flag and monitor products where the quarterly change in health check score is a negative variance of 10%.
How to use Skyjed product health-check?
It is not difficult to adopt Skyjed product health-check into new and existing product portfolios. Here we offer some tips to start your discovery and put in the foundations for a new and better way to manage your products.
From beginners to experts to finding Best practice
The Product health index is typically seen as a measure of the commercial opportunity and risk in executing the product strategy at a point in time.
There are four strong reasons why it may be in your interest to use product health index.
Profiling risk to keep on top of risk in your product strategy
Meet regulatory compliance, particularly in the design, distribution and post-sales support of your product.
Improve product growth and optimize review and product margins
Investment opportunity review to prioritize investment decisions.
How to successfully implement a product health-check
What is a Continuous cycle?
If you are going to adopt a Product Health Index, make sure you execute flawlessly and consistently.
The benefit will come from a regular cycle in your product governance, e.g. monthly, quarterly and annual updates. You can set your cadence to suit your organisation.
The flow of the continuous audit is shown in the diagram below.

Best practice tips:
The Skyjed Product health-check can be used anywhere, at any time by product leaders. Its useful to review existing products, complete at launch-ready, use prior to making a pricing change or for new regulation or even sun setting products. Based on our experiences, here are some of the leading practices for effective execution.
Champion the use of product health index across all products – new and existing
Join forces across the business and create a customized virtual team. The product health-check is more productive with the diversity of functional and expert insights. Traditional silo-based product reviews are no longer useful,
Set a consistent cadence. Best results are achieved with weekly, monthly updates and quarterly in-depth dive health check reviews.
Avoid using the Skyjed health-check as a replacement for your financial reporting. It is not a transaction tool – it complements your monthly financial reporting by adding in other domains like regulatory, customer and innovation domains.
Product Success with your Skyjed Health-check
There are several considerations to keep in mind when using Skyjed product health index. Companies should consider an approach across product design, distribution and post-sales reporting, as well as the teams supporting product growth and risk, e.g. product operations, product lifecycle and risk and regulatory organizations.
To get the most out of your product health check index, its essential to get started and set the foundations on your new and existing products and commit to consistent health-check governance.
As a product leader, these are the three things you can do right now
Ask, your team when they last completed a risk assessment on their product strategy and target market
Test if they understand it necessary to monitor more than financial metrics – things like regulatory compliance, climate change-related, target market alignment.
Starting using the Skyjed product health-check and set a consistent cadence of weekly, monthly updates and quarterly reporting to senior management.
A product health check is a powerful tool to reduce risk and meet your customer needs but be sure you are capturing a 360-degree view of your product health consistently. We see a 50% reduction in ad-hoc reporting, improved collaboration and alignment between product operations, risk and regulatory teams, and product leaders rating they feel more confident making complex product decisions.
Frequently asked questions on Skyjed health-check score
If you have any questions about Skyjed or our Health-check you can join our Slack team or message us anytime.