Skyjed guides you through a step-by-step review and assessment of your product for product success. A Skyjed Driver is a prompt for information or product rating.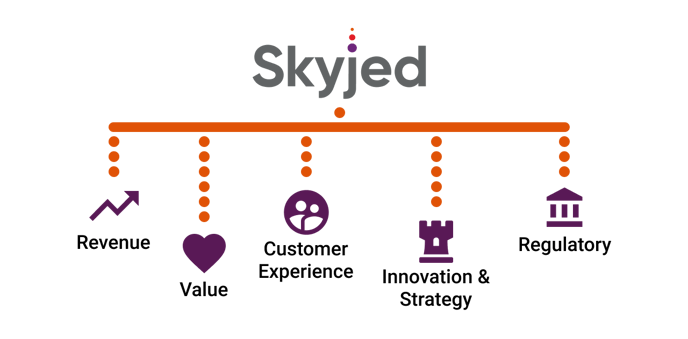 Driver 1: Description, Pricing and metrics

This defines your product snapshot and where you are headed in the next 12-18 months. It includes measurable objectives and priorities to provide value to your customers and find growth with 3-5 key metrics for you to pursue.
It's useful to think about the categories below for your metrics and prioritizes. We have listed below some examples.:
Growth
Retain & Expand:
Product Trust
Product Compliance:
Cost-effectiveness
Product Experience
Driver 2: Target market segments
This details the group of customers within a serviceable market at which you aim your marketing effort and product strategy. They are united by common set of characteristics. Make this real by writing an example of one customer or a persona. It's also worthwhile to do analysis on the size of your target market and the year on year growth of that market and work out what part of the target market is addressable for your product strategy.
Driver 3: Unique value proposition (UVP)
This details how your product solves your customers needs, pain points and what distinguishes you from the competition. When you write your value proposition try to identify all the benefits your product offers and describe what makes these benefits valuable. Identify you customers main pain points and connect your product features to that pain point. Finally, some value proposition areas may have potential in the future, but need further innovation or market effort to stand-out – so it helps to rate the strength of the value area or proposition.
Driver 4: Channel analysis and performance
This details the way you will connect with your customers. The sales channel can be direct, if it involves the organisation selling directly to the customers, or it can be indirect such as a dealer or distributor where you sell through third parties. If you are relying on third parties to sell your product its important to review the performance, cost and the product regulatory obligations for that channel. Channels can be a really cost-effective way to scale your growth globally.
Driver 5: Competitor profile
This driver details your top 10 competitors and summary information about the competitor. Profiling your competitors enables you to understand a range of information about their business. Sooner or later someone in your organisation will ask you to build a competitor profile so it useful to have one as a reference. This is also useful for on-boarding new team members or handover to another product executive.
Driver 6: Competitor market map
This details your competitors on a map that visualises the competitive position. It's much more than a marketing aid, it's a powerful tool for competitive product strategy. Our market maps help you define your competitors' position across four areas – challenger, leader, emerging player and visionary. Here are the definitions:
Challenger - disrupting mainstream business model
Leader – market share and value proposition holder
Emerging player – recently entered the market, could also be existing or adjacent company that launched new product set
Visionary – setting the transformation future of that segment with high visibility in the customer segments
Driver 7: Competitor intelligence
This details how your competitors are unlocking growth so you can identify opportunities and threats to your product strategy and positioning. To make the analysis useful it important to evaluate your competitors' products and marketing strategies. Know how they are unlocking growth and addressing disruptive trends. Finally rate the impact of this on your current product strategy and value proposition.
Driver 8: Product market share
This details your market share assessment. Market share is defining total purchases of a customer of your product or service, what percentage goes to your company. That is your market share. Market share can be volume or value based. Market share is a key to profitability. That's why we recommend you understand the market share over-time i.e. prior year and forecasts.
Driver 8: Revenue plan and actual
This details how your product revenue forecasts. A revenue plan is a calculation of the amount of money that a product will receive from sales during a period. Forecasting revenue is both science and art. Developing a revenue plan helps you make better strategic product management decisions. You need to know four factors – your budget, prior year actual, forecast and actual performance.
To find out more on product forecasting and setting budgets see our blog post guide.
Driver 8: Marketing plan
This details how you will bring your product to market, promote it and sell it to your customers. Product marketing is a strategic activity focused on driving awareness, consideration and purchase of your product. Your responsibility as product manager is to define, with your marketing team the quarterly marketing campaigns to support your strategy and sales plans.
Driver 8: Sales plan
This details your sales strategy and sets out sales targets and tactics for your target market. As product manager its useful to understand the assumptions of the sales targets. Assumptions are areas like number of customers and usage metrics. Detail the risks to the sales plan and monitor quarterly.
Driver 8: Sales buyer persona
This details your buyer persona in the target market organisation. For product executives its helpful to understand who makes the buying decision for your product or service. Map out why they would want to buy your product proposition. In addition to understanding the buyer persona, we recommend that you map out the influences on the buying decision.